Have you booked to attend the Training Day, Discounted to just £49.00 plus VAT for members?
If you are looking for Balloon Training the NABAS 'Training Day' will be a great class for Organics, Twisting and Link Balloons!
The NABAS AGM & Training Day is without doubt the most important date in your calendar. It gives you the opportunity of being an integral part of your association and the decision making process, and is a wonderful opportunity to network and learn with your peers. And while we know taking any time away from your business can be difficult, we try and make the event as beneficial as possible by incorporating training classes throughout the day. This year will be no exception and your itinerary will include:
Safari Theme
2. Full Sleepover Garden set up indoors
3. Tipi Tents
4. Balloon Wall
5. Entrance Tunnel
6. Giant Balloons
7. Props 
The cost of attending this full day has been discounted to just £49+ VAT for members and £75+ VAT for non-members, which includes lunch & refreshment, however as always if you just want to come along for the AGM only, there is no charge.
Don't Miss Out, Book Online Today Here:  AGM – NABAS The Balloon and Party Professionals Association
For those wanting accommodation on the Sunday night, the hotel has offered us a corporate rate of £72 B&B per sole occupancy room and £82 B&B per double occupancy room, however we would always recommend looking at what various booking sites are offering.
Hotel Information: (Please book directly with Hotel, advising you are attending the NABAS event in April to receive the corporate rate):
Best Western Plus Manor Hotel
Main Road, Meriden
Solihull, CV7 7NH
Telephone: +44 (0) 1676 522735
If you have any questions, please do not hesitate to contact the team: info@nabas.co.uk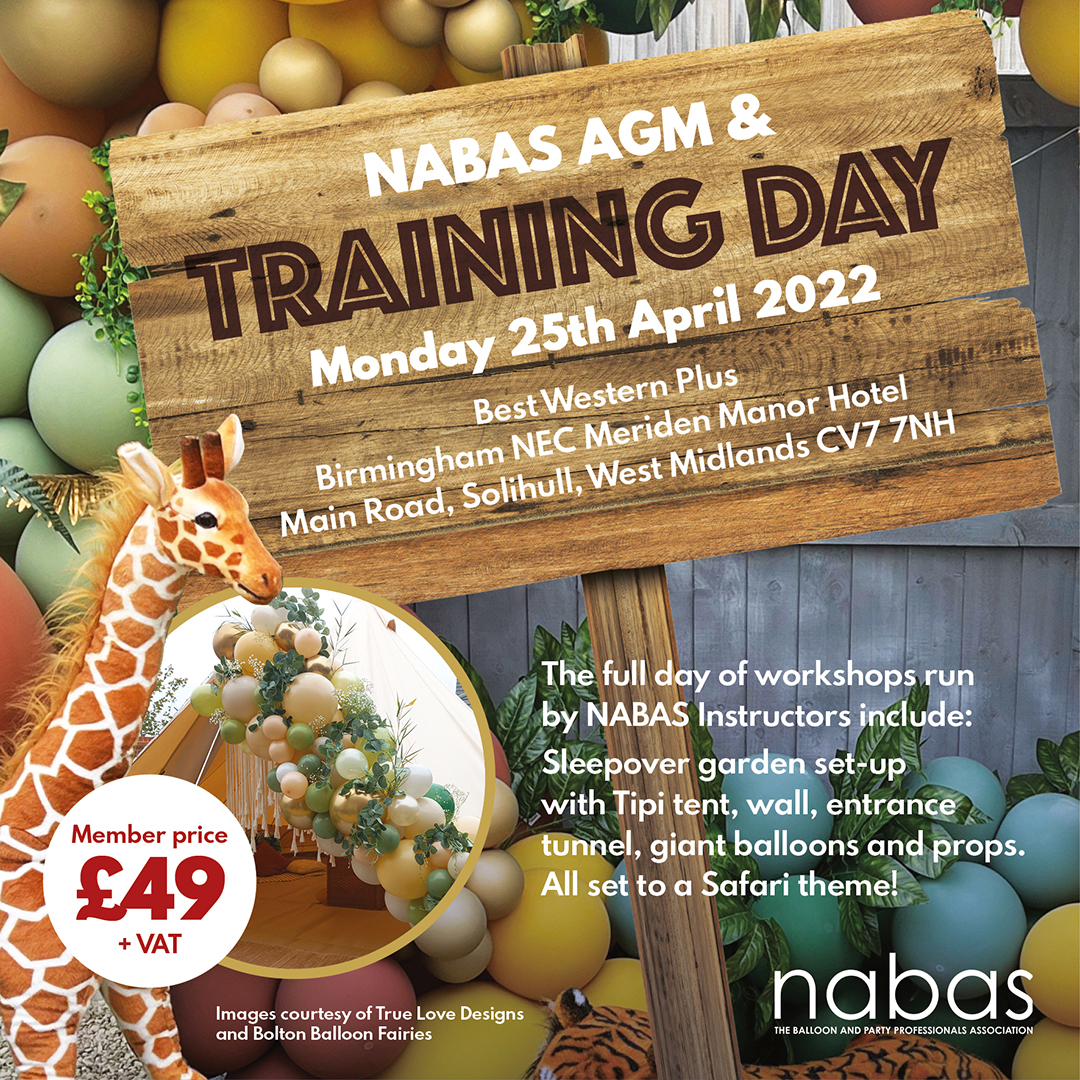 April 25 @ 09:00
Claire Carney, Fiona Eagle, Liz Milligan, Sharon O'Bryan