We are delighted to announce that our training programme has undergone a much needed, full and thorough transformation and we are tremendously excited to officially launch this ready for 2020.
One of the primary aims of NABAS has always been to ensure independent training, where learners receive detailed balanced information, with full transparency, as well as an introduction to a full range of products from various manufacturers. Where the learners' needs are put first and once they have completed their course, they receive a meaningful certificate from an approved and recognised Trade Association.
The original NABAS course was over 30 years old, and in need of urgent change to take into account that the World is now a very different place, full of unaccountable free for all videos and an abundance of balloon courses by instructors of varying knowledge or skills.
We needed our instructors to undergo a bit of a transformation, where the learners' needs come first and where every course is assessed and lesson planned, with a strong focus placed on evaluation standards aimed at assisting and supporting instructors to improve and ultimately support all learners.
Liz Williams, was appointed as head of NABAS training and has been working hard with committee and instructors to ensure we once again lead the way on quality and educational standards, giving both approved instructors and learners a strong foundation for growth and development.
It would be fair to say some instructors didn't want to be assessed or create lesson plans, preferring a more independent, unmonitored approach and this was indeed their choice, but it was absolutely essential that NABAS was once again seen and acknowledged as the primary place to go for quality, independent, unbiased education. And although NABAS courses have been a strong foundation for many manufacturers training programmes, we simply couldn't feel proud of delivering dated material any longer.
Our New Level 1 balloon and business basics course now ensures tips, techniques, calculations and job costing are fully covered, alongside principles and elements of designs, basic marketing, bouquets, garlands and arches – and now includes a fabulous glossy, colour manual packed full of information.
Level 2 is in development and will bring the classic techniques into the 20's, with an aim to relaunch in 2020.
WELCOME
INTRODUCING NABAS
BALLOONS AND THE ENVIRONMENT
-Latex
-Foils
-Bubbles
BALLOON RELEASES AND THE ENVIRONMENT
PIN IT N' BIN IT
FLOATING ABILITY
-Qualatex Helium Chart
-Amscan Helium Chart
EFFECTS OF TEMPERATURE, SUNLIGHT AND ALTITUDE ON BALLOONS
-Temprature
-Altitude
-Sunlight
ULTRA HI-FLOAT™
HELIUM/BALLOON GAS
SAFE HANDLING OF COMPRESSED GAS CYLINDERS
BALLOON GAS REGULATORS/FILLING KIT
BALLOON AIR INFLATION EQUIPMENT
BALLOON SAFETY AND ACCESSORIES/DECORATOR KIT
SIZING OF HELIUM / AIR FILLED BALLOONS
TYING BALLOONS AND ATTACHING RIBBON
DUPLETS AND CLUSTERS
BALLOON ARRANGEMENTS / BOUQUETS
LATEX DOUBLE BUBBLE
BALLOON IN A BOX AND REVEAL BALLOONS
CREATING GARLANDS
-Balloon Column
SPIRAL GARLAND CHART
BALLOON ARCH
-Arch Length Formula
TOPIARY
ELEMENTS & PRINCIPLES OF DESIGN
-The elements
-The Principles
BUSINESS CURRICULUM – PRICING/COSTING A JOB
JOB COST FORM
PREPARING AN INVOICE
RISK ASSESSMENT
MARKETING AND SELLING
ADDITIONAL INFORMATION – TIPS & TRICKS
USEFUL ADDRESSES
INSPIRATION FROM NABAS MEMBERS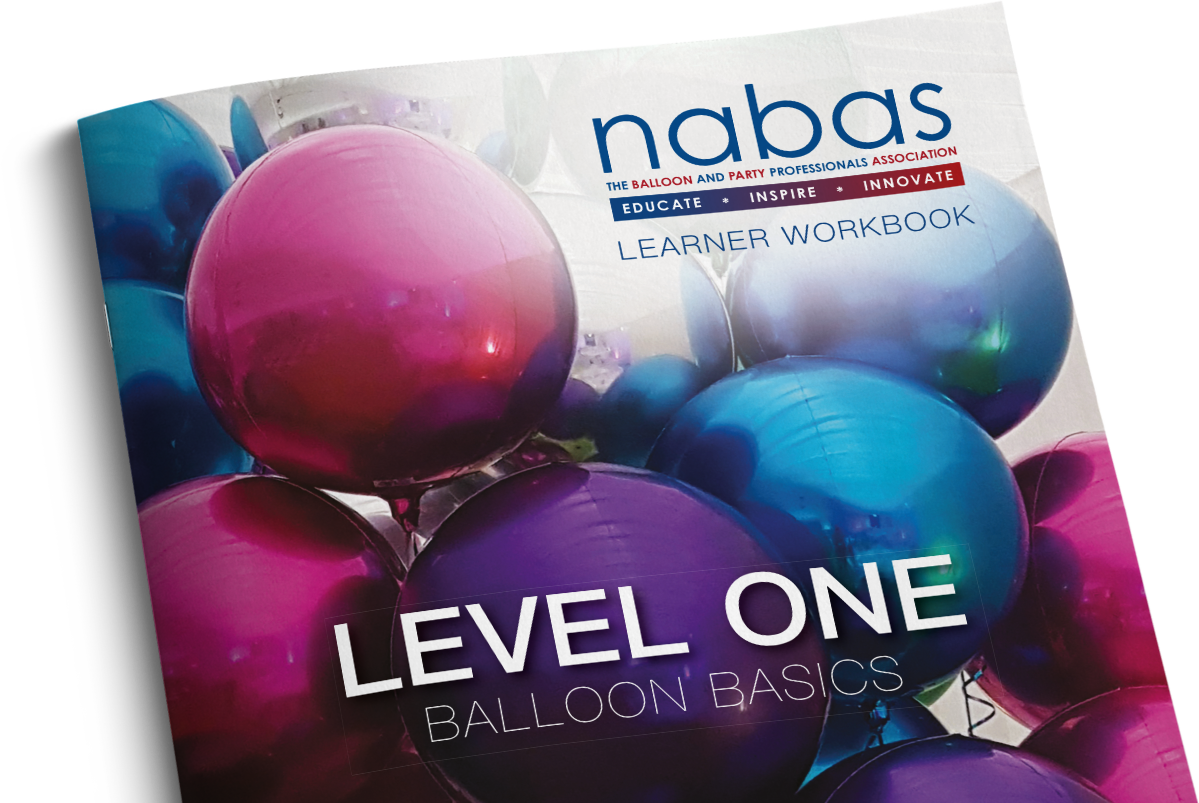 Specialist courses are available around the UK with more planned next year as new instructors come on line. We already have seven being put through their paces to make sure they fully understand what this prestigious role entails. These NABAS ambassadors, strategically positioned around the UK, will be helping, advising and sharing their knowledge to those requiring quality training and professional support.
Watch this space for imminent announcements of your new instructors. If you wish to be considered for future enrolment as a trainer and you feel you have the necessary qualities, experience, drive and commitment, the instructor application form and process is available by emailing info@nabas.co.uk. Please understand this will not be easy, but we will give you full support and guidance from both the committee and training team.