Please note: This is not a NABAS certified course
Celebrations are being booked again.
Helium is in short supply and more expensive.
Are you looking for air filled ideas to stand out from your competitors?
Yes?  Then this is the course for you!
Create stands and bases for your air-filled décor
Understand how and when designs suit the party space
Air filled design ideas using classic, organic and lights
Add photos to your balloon portfolio
Learn to job cost every design for profit
The class is a mix of demonstration-based with some hands-on elements.
Knowledge of balloons and tying clusters required.
All Balloon Artists welcome.
For a booking form or more information contact: – Liz @ Executive Balloons Training
Executive Events & Balloons
www.executiveballoons.co.uk
Training page – https://www.facebook.com/ExecBTraining
07951 967731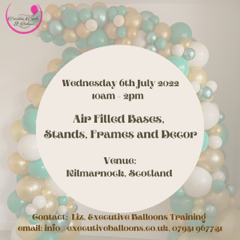 May 19 @ 10:00
Liz Milligan