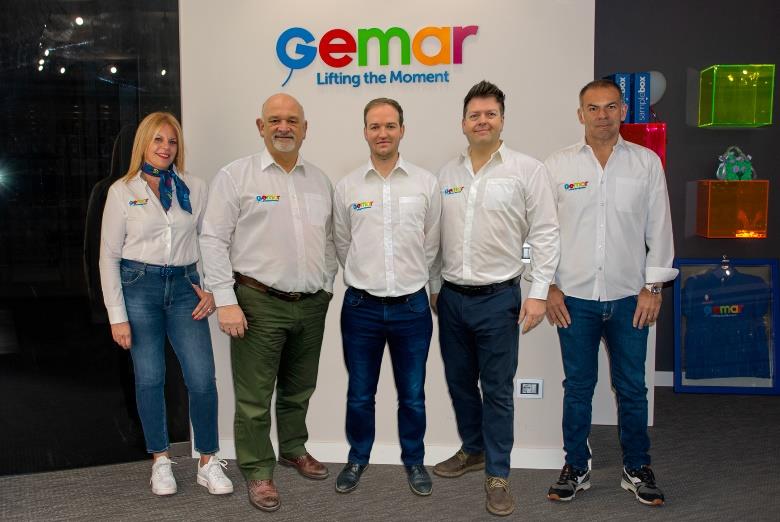 Gemar set for major new UK lift-off
With huge anticipation and excitement Gemar UK bursts onto the scene, a massive development for the balloon and party industry for the UK and an exciting development for the Gemar family.
Headquartered in Italy, Gemar already has a strong track-record of sales in the UK. Now, with the creation of Gemar UK, the stage is set for further exciting growth.
Gemar UK will be headed up by John-Paul Banbury, Mark Drury and Richard Turnbull who have a vast experience in the balloon and party industry. Together with Gemar, the UK team plan to grow and further establish Gemar in the UK.
Says Genesio Rocca, Vice President of the family-owned Gemar business:
"It's with real pride and excitement that I can announce the creation of Gemar UK – a new business with responsibility for delivering the full Gemar experience to this high potential market. Over the last 18 months, thanks to the hard work of the local team, UK
demand has grown rapidly. Now we've decided the time's right to strengthen the support and service and bring the UK into the amazing Gemar community.
About Gemar® Balloons
Gemar Balloons is the largest manufacturer of natural rubber latex balloons in Europe. Located in Casalvieri, a small town the heart of Italy, we continue to lead the way in balloon development, inspiring the people who buy our products with new ways to add a touch of magic to every occasion. We're dedicated to tradition. innovation and creativity, and are committed to making sure that our products are as sustainable as possible throughout their
lifecycle. Today. we produce millions of balloons every day in more than 100 different shapes. sizes and colours… all made in Italy with passion and pride
This association marks an exciting new chapter, and we're really looking forward to seeing how our brand develops in the capable hands of John-Paul, Mark, and Richard."
Gemar UK will stock all Gemar products distributing from its warehouse in the centre of the UK. Offering all the benefits of a UK supplier, including a fully stocked warehouse offering a 2-day lead time on all orders. Gemar UK will have dedicated training & marketing support for all customers, product knowledge, industry leading events with expert marketing guidance.
To celebrate the launch of Gemar UK we will be exhibiting at the Spring Fair in Birmingham on sth – 9th February. There will be exciting new launches of product, 3 daily demonstrations from Gemar and industry renowned artists. It's a great opportunity to meet the new team and see what new opportunities are on the horizon for your business.
Last words go to John-Paul Banbury, the new Head of Gemar UK:
'Gemar UK is an incredible opportunity for us to work alongside such an amazing, well­ respected brand and company! Gemar is a family business like mine with innovative ideas, excellent product with an equally excellent price point. An area that stood out to me is their incredible 'Go Green' project and the whole company ethos that is unmatched by anyone in our industry. Gemar has an amazingly supportive community, and the Spring Fair's a great opportunity to meet the new team and see what's on the horizon"
Gemar makes more than balloons it makes moments – and this is an important one for the business, and for parties and people across the UK.