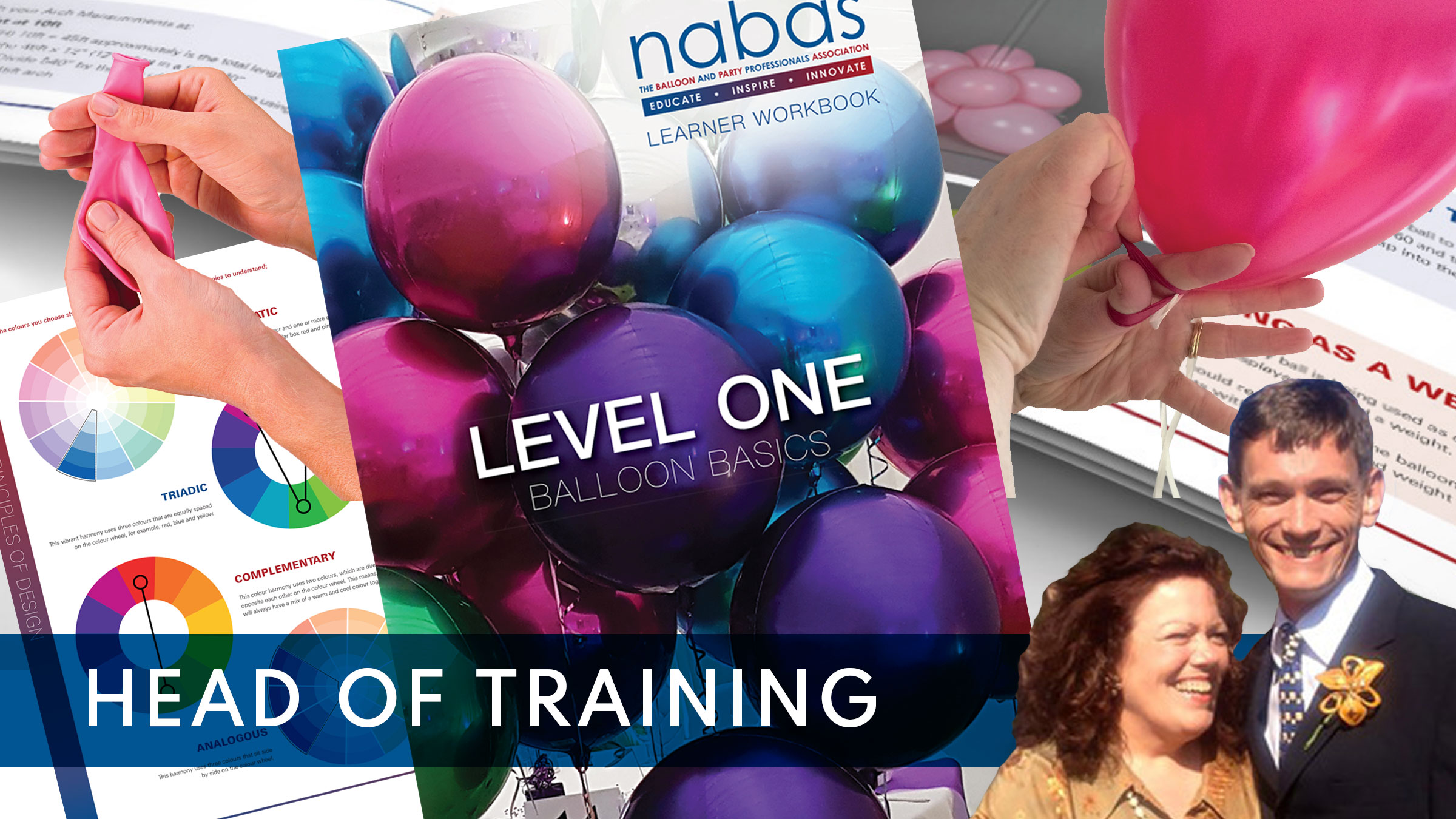 NABAS' new Head of Training
NABAS is delighted to announce the appointment of Peggy Butland and John Preston from the Great British Balloon Company as Head of Training.
Peggy and John met in 1996 when Peggy placed an ad in a magazine calling for help with a big event at Wembley. Almost 25 years later and with a combined 60 years in the industry, they have travelled the world providing training and development to balloon artists and companies. Their training repertoire and experience has seen them spending six months a year for a decade travelling Italy, holding their very own 3-day convention in Dubai and decorating Buckingham Palace for the Queen's 80th birthday.
Their wealth of experience has also required them to adapt their business model in response to the global recession in 2008, moving from corporate services to shop front, making them no strangers to adverse business conditions.
Peggy and John have a vision for NABAS training that makes it accessible to all in the balloon industry across the UK, with a strong emphasis on quality of courses and instructors, combined with the versatility and adaptability that will help trainees get the most from the course.
As Head of Training, the dynamic pair recognise the opportunities available as being a member of the association. John said "It's important to have an association that is happy to train and share ideas." He continued "It's not just about providing prescribed courses, but encouraging attendees to think about the profit margins, the logistics and how the product can be adapted to meet different requirements. Most importantly, the quality and professionalism of the training is the priority."
As Head of Training, Peggy and John will be exploring new ways of ensuring all courses reach all in the profession, including the addition of online learning and retraining instructors to be able to deliver courses locally to all across the UK.
Peggy said "The balloon industry does need an independent association. NABAS has been putting on beautiful events and instructors should be at that event, to build pride in the training available and build pride in NABAS members."
Most importantly, as Head of Training, Peggy and John Butland bring over half a century of experience, with the commitment and passion of two people truly invested in moving the association and the industry forward, and also to help those earlier in their career.
John said "to be successful in the balloon industry now, you need to do something completely different, use your head and find something new. A lot of training is very prescriptive, but whenever we do a class we always create sellable things. We want to get people thinking and encourage innovation and smart business decisions."
John and Peggy Butland will be announcing new training initiatives and opportunities in the coming months. NABAS welcomes their incredible wealth of experience and expertise and we are truly looking forward to the training opportunities they will unlock for members and the industry.