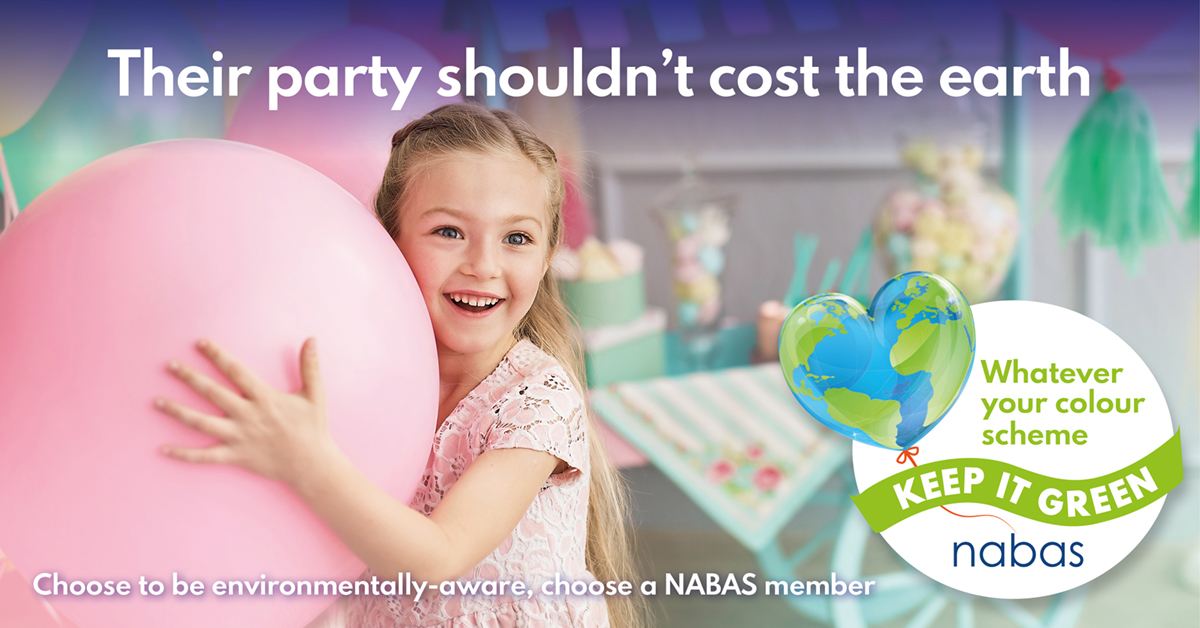 NABAS launches environmental campaign
The National Association of Balloon Artists (NABAS) has launched a new campaign to urge its members and their customers to choose environmentally friendly party supplies and options when planning their next event.  The campaign asks party planners and goers to opt for a 'green' colour scheme and provides print materials and online resources to better educate the industry and consumers about the positive impact small changes can make.
The campaign comprises of digital and print materials that cater for key areas of the industry including weddings, baby showers/gender reveals, children's parties and corporate events. There are online information resources in the form of blogs and guides, plus downloadable assets and shareable content that members can use on social media.
NABAS members are provided with educational and training support to help them provide eco-friendly options and guidance to their customers, and this campaign seeks to pass on that sentiment to the public. The association, soon to enter its 35th year, continues to champion best practice, in terms of quality and the environment, with ongoing initiatives including the 'Pin it and bin it' message. With new, improved environmentally friendly products and services emerging all the time, NABAS members share insights and knowledge to help the industry better consider the planet.
Balloon artists, party suppliers, wholesalers and other professionals within the party industry can join NABAS from just 50p a day and gain access to a wealth of incredible member benefits to help their business and the industry go from strength to strength. The NABAS mark of excellence covers everything from gold standard insurance through to incredible training, knowledge transfer, marketing assets and education, providing members' customers incredible peace of mind.
As the only balloon and party association in the UK run by its members, for its members, NABAS continues to grow and is experiencing its highest membership numbers to date, representing a significant proportion of the industry.  Which is why environmental campaigns such as the latest are imperative to position the industry as forward thinking and in tune with this exceptionally important message.  As the war on single-use plastic and wasteful material consumption continues , NABAS continues to advocate environmentally friendly initiatives, schemes and ideas that its members are encouraged to adopt.
Members can access their customisable campaign assets in the NABAS members' area, and non-members, wanting to demonstrate their eco-friendly status to their customers can join NABAS in minutes for less than a takeaway coffee per week. Joining is fast and easy – for the full list of member benefits head here https://nabas.co.uk/membership/membership-benefits/